Currently, when installing a bituminous roofing system there are two common methods of waterproofing the upstand details:
Torch-applied bituminous base sheet and cap sheet: This option requires the substrate to be free of any fire hazard or combustible material. Whilst it is historically seen as one of the most robust methods of making an upstand watertight, new methods of waterproofing are sought in response to the need for flame-free alternatives.
Self-adhesive bituminous base sheet and cap sheet: Whilst self-adhesive membrane technology can provide significant advantages in terms of reducing the exposure of the substrate to use of a flame; when used in a vertical application such as an upstand, the membranes are subject to the hot-cold cycle, and are more susceptible to potential delamination from the upstand during this process, due to the combined effects of heat from solar gain, gravity and reliance on ambient temperatures during the installation process.
WHAT ARE THE ALTERNATIVES?
Flame-free liquid waterproofing can be used on substrates where the use of a flame is prohibited. However, many waterproofing manufacturers do not manufacture both the bituminous membrane and the liquid waterproofing and therefore, are unable to offer the best solution for your project due to the limited product range.  Where liquids and bituminous solutions are offered, more often than not, you must also deal with more than one warranty all with mixed timeframes which can be confusing.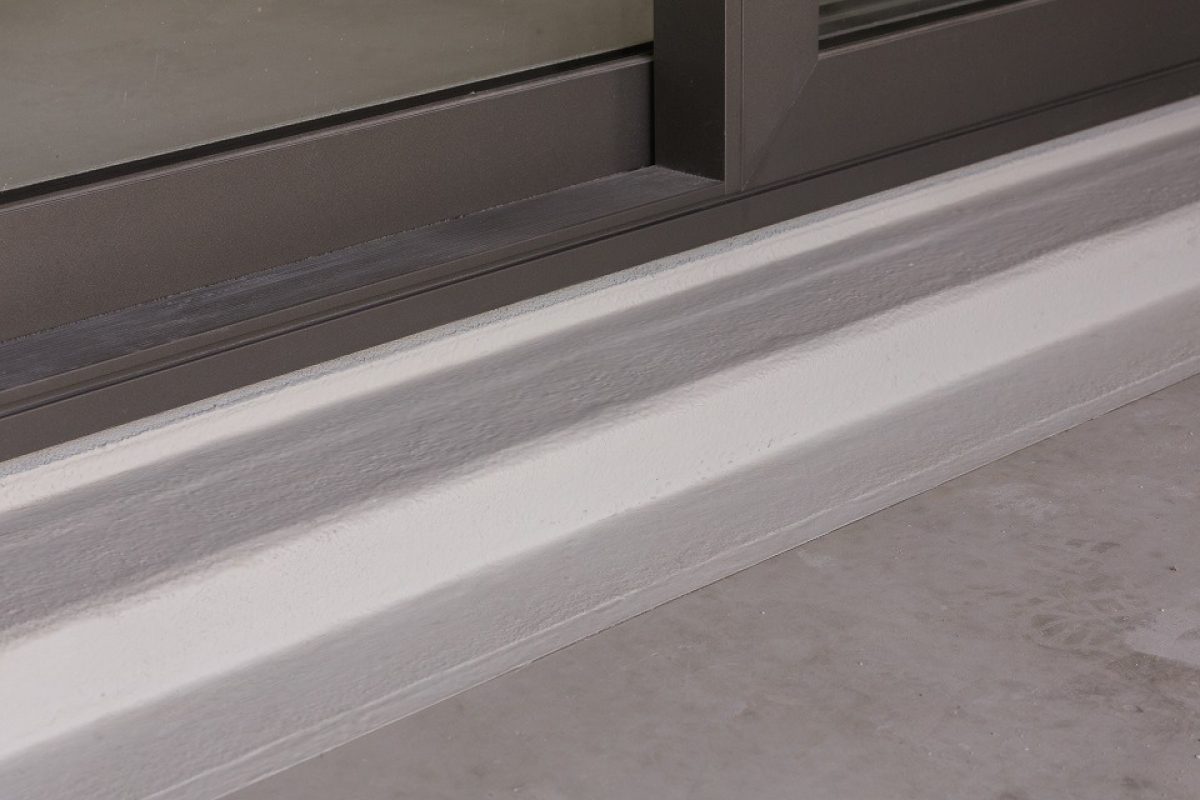 THE SOPREMA SOLUTION FOR UPSTANDS: ALSAN FLASHING QUADRO
As a global leader in the manufacture of waterproofing systems: bituminous, liquid, synthetic and much more, SOPREMA has an understanding of all of these problems and has an effective solution.
Combining the advantages of traditional bituminous roofing systems with the benefits of innovative and flame-free liquid waterproofing technology.
As a result of extensive research and development, demands of the market place and in response to the challenges highlighted above, SOPREMA present ALSAN FLASHING QUADRO,  a hybrid waterproofing solution for details, interfaces and upstands to be utilised in conjunction with SOPREMA bituminous waterproofing systems.
ALSAN FLASHING QUADRO, a liquid waterproofing solution, is a single component polyurethane resin.  It is cold-applied, reducing health and safety risks and fire hazards on the roof which is particularly important for refurbishment projects.
ALSAN FLASHING QUADRO can be used in conjunction with SOPREMA's system-specific bituminous membranes, offering the ultimate roof waterproofing solution.  A key benefit of ALSAN FLASHING QUADRO is that it can be applied at any time of the year, as it can be exposed to extreme high and low temperatures without affecting the performance of the resin, offering complete peace of mind and ease of application.
SOPREMA's extensive product range of bituminous and liquid waterproofing materials means we can offer a single-point warranty on the full waterproofing system rather than for the individual products which is seen as a huge advantage by many contractors, specifiers and building owners.
ALSAN FLASHING QUADRO is highly elastic and is quick to apply as it doesn't require a catalyst nor an activator. This means you can get the job done quickly and effectively with minimum wastage. It is also suitable for direct application to concrete, wood, bitumen, PVC and many metals.  Available in an attractive dark grey (RAL 7012), it can be finished with hand cast minerals so that the bituminous membrane and liquid have a completely seamless and consistent finish, adding to the aesthetics of the roof.
If you would like to find out more about SOPREMA, ALSAN FLASHING QUADRO or our range of waterproofing systems, please email info@soprema.com.au