SOPREMA is committed to maintaining a quality management system for all its products that meets and exceeds the most stringent requirements of the industry.
Choosing SOPREMA is a guarantee of reliability. As a testimony to the trusted performance of its products, SOPREMA offers you a complete warranty program that lives up to its reputation and expertise. You simply choose the level of protection you require to ensure your total peace of mind. 
Warranty Types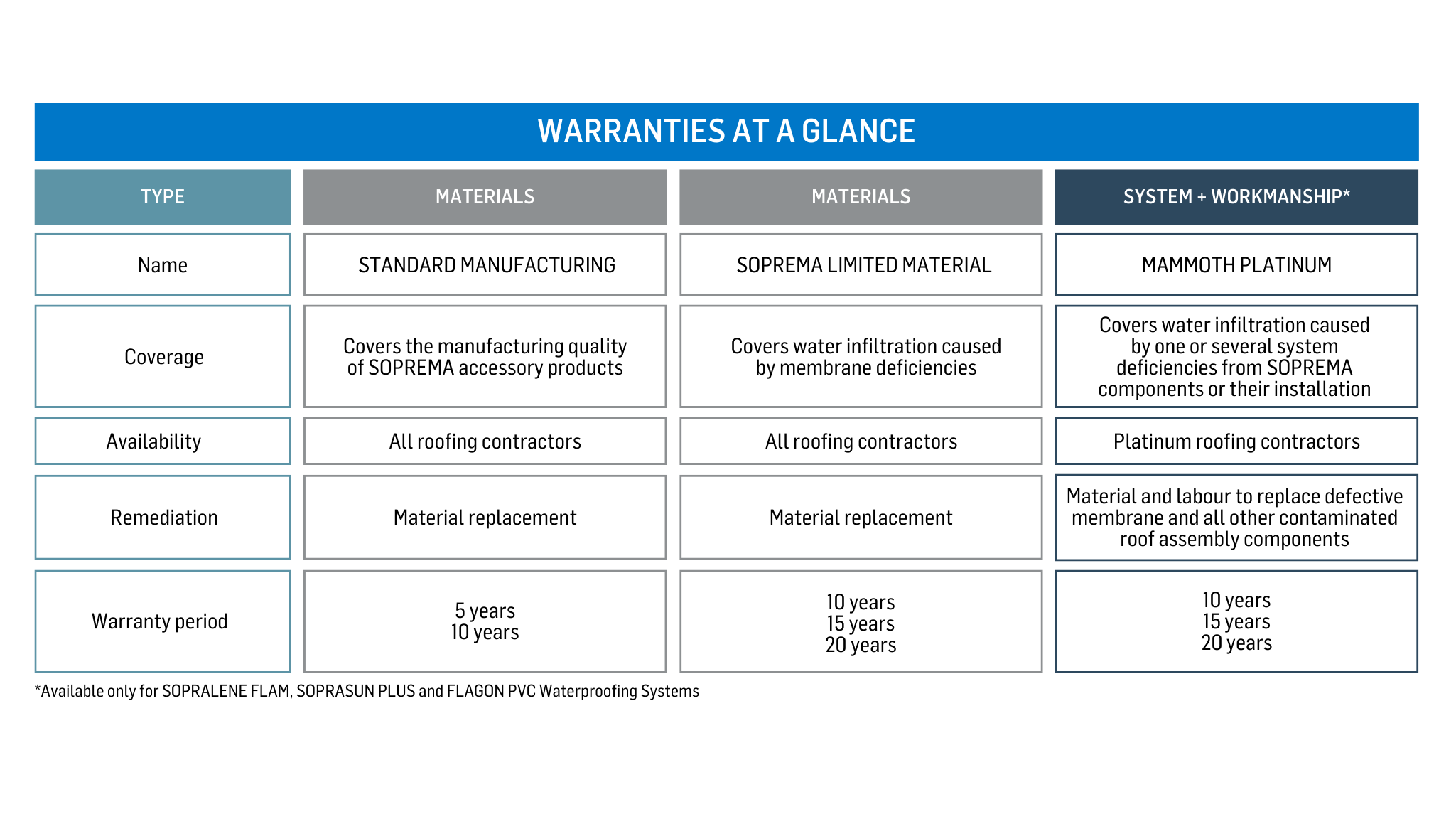 1. STANDARD MANUFACTURING MATERIALS WARRANTY
All products manufactured by SOPREMA come with a 5 to 10-year limited product replacement warranty. If a product contains a manufacturing defect, then SOPREMA will provide you with replacement material.
2. SOPREMA LIMITED MATERIALS WARRANTY
If you desire longer coverage, a 10 to 20-year limited product replacement warranty is available for eligible products. With this warranty, if a leak develops due to a manufacturing defect, then SOPREMA will either provide you with replacement material or refund the purchase price you paid for the defective product*.
3. MAMMOTH PLATINUM WARRANTY
With a Mammoth Platinum Warranty, if a leak develops due to a manufacturing defect or due to the installation workmanship of the installing contractor, SOPREMA will provide you with the labour and materials necessary to return the system to a watertight condition*.
* Certain conditions apply. For SOPREMA Warranty Terms & Conditions, please contact your local SOPREMA representative or contact us at info@soprema.com.au
---
Preventive Maintenance
A routine preventive maintenance program is fundamental to the long-term performance of the waterproofing system of your roof. You, as the Owner, are responsible for completing or having someone complete these inspections each year. Preventive inspections should be conducted at least twice a year, ideally in the fall and at the end of winter. It is also recommended that you carry out an inspection after major weather events, such as heavy rains, storms and strong winds. 
You can ask skilled professionals, such as roofing contractors, inspection firms or any industry experts, to inspect your roof for you. Preventive inspections may also be carried out by your own maintenance staff or anyone that you authorize to do so. We recommend that you document these inspections and keep observations filed with your warranty certificate.  
If leaks are found during the period covered by your warranty, be sure to notify SOPREMA in writing at Level 35, 100 Barangaroo Avenue, Sydney NSW 2000 or at tech@soprema.coma.au within eight (8) days of the discovery of the leakage. 
You will find attached a preventive maintenance checklist, which can be used as a reminder of the items to be checked during preventive maintenance. You can make a copy for each servicing.