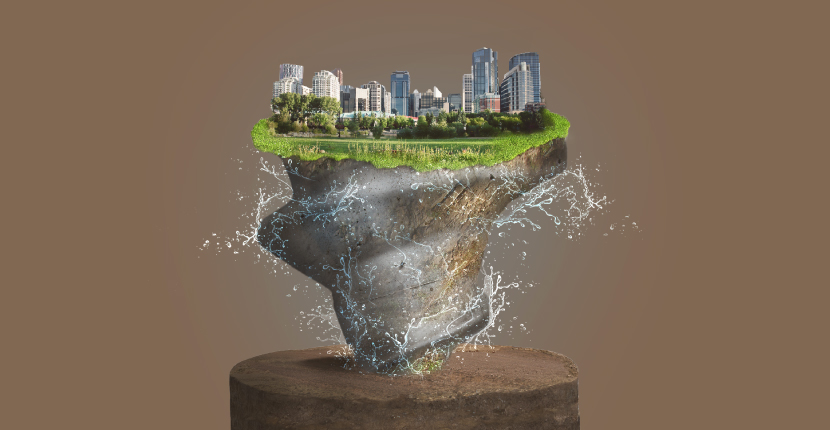 Sydney, Melbourne, Brisbane and Perth CBD are all examples of major Australian cities where space is sometimes restricted on construction sites. In most construction projects located within large urban centres, access to the exterior walls of the foundation is difficult. Under these conditions, a high-performance pre-applied foundation waterproofing system must be used.
COLPHENE BSW, the Ideal Solution!
The COLPHENE BSW system is the perfect solution when you are waterproofing horizontal and vertical surfaces in blind side wall applications located in high-density areas. Its use is crucial when nearby buildings limit the access and excavation of a new project.
COLPHENE BSW membranes stand out from the competition due to their performance. One of the COLPHENE BSW membrane features is its superior adhesion to concrete. Benefiting from the heat of the exothermic reaction that occurs during the curing process of concrete, the COLPHENE BSW system has superior adhesion due to the chemical and mechanical bond between the waterproofing membranes and structural concrete, which not only prevents water infiltration inside the building but also lateral water migration between the membrane and concrete.
BSW stands for "Blind Side Waterproofing", because after the installation of membranes it will be impossible to have access to them once structural concrete is poured.
DUO SELVEDGE Technology, the safest choice
Furthermore, for a safer installation, COLPHENE BSW UNI NG and COLPHENE BSW V membranes are provided with DUO SELVEDGE, a unique technology developed and patented by SOPREMA. This technology consists of providing an overlap of 100 mm where the first 50 mm of DUO SELVEDGE are sealed with a self-adhesive, and the other 50 mm are then safely thermowelded or sealed with hot air.