As a market leader in bitumen-based waterproofing solutions, we not only provide the membranes your project requires, but also the means needed for an efficient and uniform installation. The MINI-MACADEN, a machine engineered, designed and patented by SOPREMA, enables automated bonding of both SBS and APP bitumen membranes, for projects of all sizes, reducing manual operations and limiting the use of flame.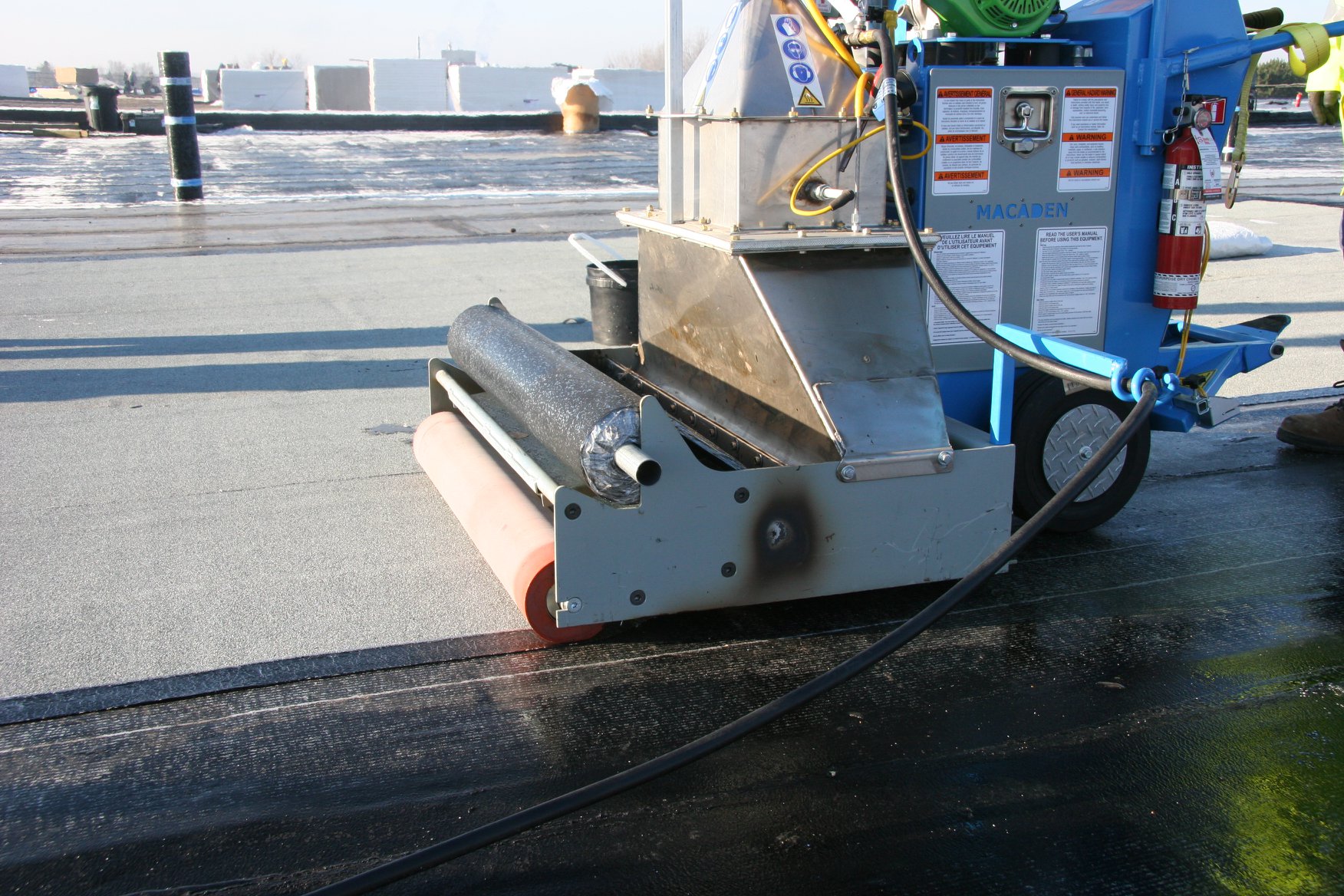 AUTOMATED WELDING VS TRADITIONAL TORCHING METHODS
The MINI-MACADEN offers numerous advantages compared to traditional torching methods:
A PERFECT BOND
The MINI-MACADEN enables the membrane to be fully bonded to the substrate. When membranes are installed using the MINI-MACADEN, it is guaranteed that a full even bond and consistent bleeding across the installed roll of membrane whilst in operation.
REDUCED GAS CONSUMPTION
As the MINI-MACADEN heating system is closed, heat is concentrated on the membrane, thus reducing losses – an ecologically and economically smart choice.
SPEED OF APPLICATION
The MINI-MACADEN can install up to 1,000m2 per day on average, depending on the team and the presence or absence of roof obstructions, compared to a two-person team that would manually cover approximately 200 m² per day.
From loading the machine through to completing the installation of a roll takes three and a half minutes or less, depending on the ambient air temperature and the speed with which the torching operative completes the end laps.
ON-SITE TRAINING INCLUDED
SOPREMA supplies full onsite training for the MINI-MACADEN including:
A safety toolbox talk of the do's and don'ts.
Safety in terms of the location of the generator and the gas bottles
Cleaning and maintenance requirements, ensuring operators can look after the machine as intended
Installation training itself: starting with safety and technique, and once this is mastered, implementing speed is introduced.
USE IN HIGH WINDS
The MINI-MACADEN can be used in high winds as the intense heat is concentrated within the machine. This cannot be done when torching with traditional methods, as the heat is instantly taken from the roll of membrane.
MINIMAL RISK OF FIRE
There is minimal risk of a fire hazard as the flame is instantly extinguished at the flick of a switch once the roll has been installed, while traditional methods require the hand torch to be continuously alight.
CONTINUOUS OUTPUT
Self-propelled, the MINI-MACADEN hugely reduces strenuous labour and risk of injury. The machine does not need breaks for any operational reason for example cooling etc and can therefore work all day.
AVAILABLE FOR HIRE
The MINI-MACADEN is available for hire for your next project. Contact your SOPREMA representative for more information.