Water sports are a part of life in Australia and New Zealand.  Many popular beaches have their own Surf Life Saving Club.
Today, we introduce the new South Brighton Surf Life Saving Club in Canterbury, NZ.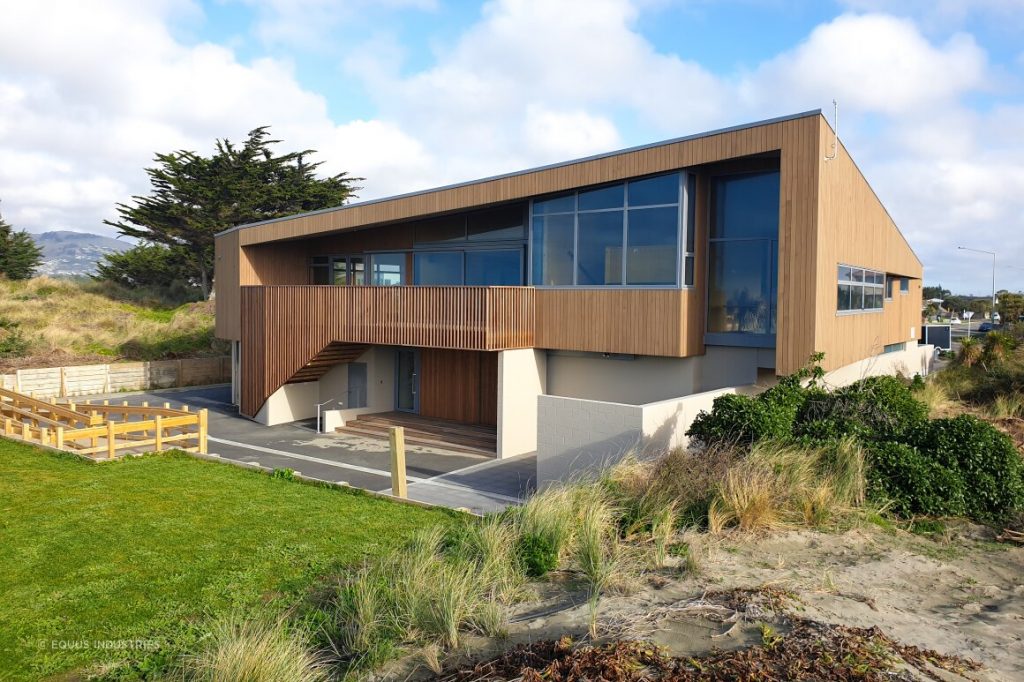 The club was formed in 1929. It's original club house has had multiple renovations over its lifetime. During the Canterbury 2011 earthquakes, the building suffered several major structural and aesthetic issues, and after looking at various repair options, it was decided that a full rebuild was required.
Architect: Sheppard & Rout Architects
Certified Applicator: H2OFF
System: SOPREMA Duotherm Warm Roof and SOPREMA Deboflex Special foundation waterproofing
Builder: Contract Construction
The new building was designed by Christchurch-based Sheppard & Rout Architects, and the highly detailed design is now the beautiful home to one of the largest surf clubs in Canterbury with over 350 members.
The visible roof is an integral part of the building design, and the roofing membrane selection and installation was required to be high-end to align with the building aesthetics.
It was important to the building owners that the building be cost efficient throughout its life. The design went through thorough value engineering to ensure the most thermally efficient and best price/quality solution was selected. This is why the SOPREMA DuOtherm Warm Roof system was an ideal solution for this project, as the roofing insulation provides the building with thermal efficiency. This allows for lower energy usage throughout the year with less requirement for heating in winter, and reducing cooling cost in summer.  The roofing system moves the dew point to the outside of the building which ensures no condensation build up inside the ceiling cavity, which makes for an overall healthier building.
The SOPREMA DuOtherm Warm Roof consists of the DuO two-layer waterproofing membrane system applied over a PIR thermal insulation board and a vapour barrier. This guarantees a continuous and efficient thermal resistance (R-value) as required by the New Zealand Building Code. SOPREMA Authorised distributor Equus Industries Ltd provided technical support and supplied all system components. The DuOtherm layers have been professionally installed by Certified Applicator H2OFF Ltd. Have a look at the pictures showing their accomplishment.
---